Inconvenient: oceans continue to cool
From the way media and climate scientists portray the global air temperature this past year, you'd think there was only one place to go – up. For example, Gavin is holding on to hope: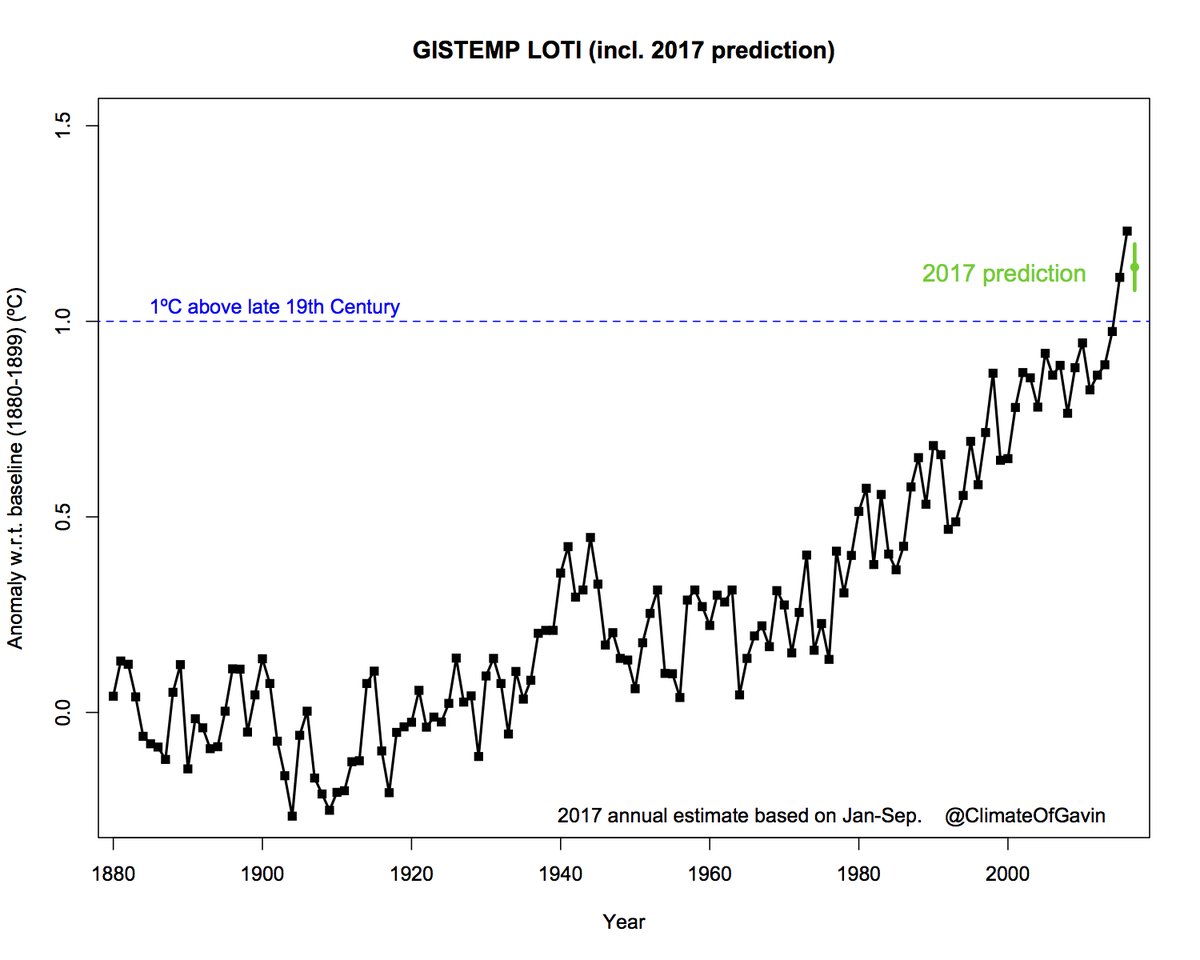 Next year will be interesting.
However, oceans rule the temperature of the planet, and as this most recent SST shows, there's a lot of cool water and a clear signature of La Niña shaping up off the coast of South America: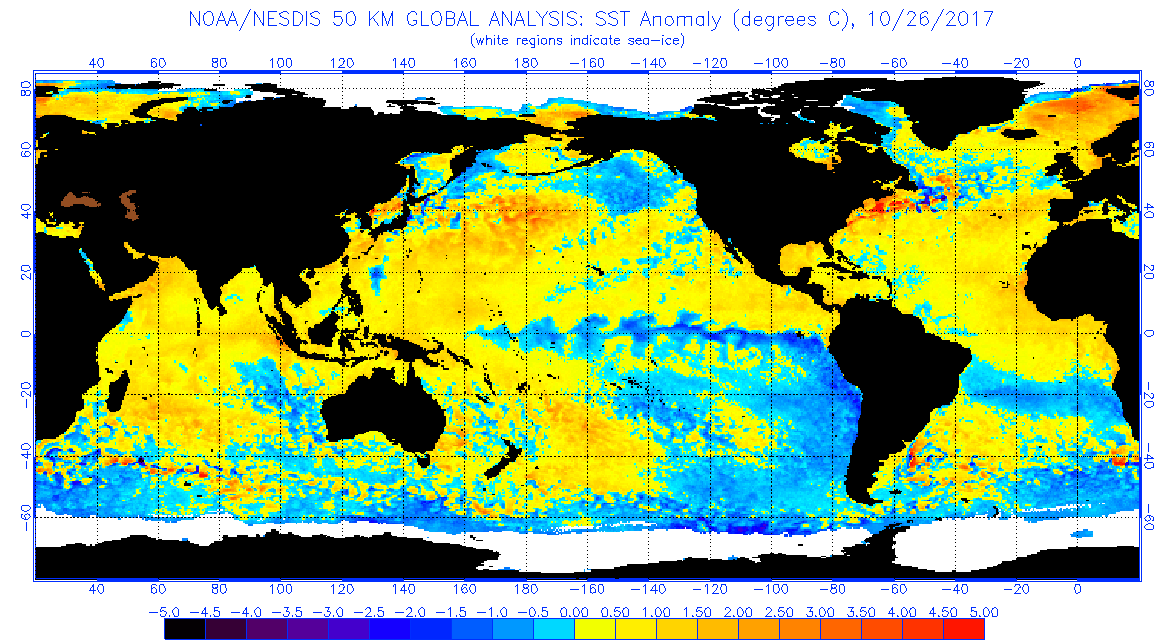 Source: http://www.ospo.noaa.gov/Products/ocean/sst/anomaly/
Ron Clutz of Science Matters writes:
September Sea Surface Temperatures (SSTs) are now available, and we see downward spikes in ocean temps everywhere, led by sharp decreases in the Tropics and SH, reversing the bump upward last month. The Tropical cooling in particular factors into forecasters favoring an unusually late La Nina appearance in coming months.
HadSST is generally regarded as the best of the global SST data sets, and so the temperature story here comes from that source, the latest version being HadSST3.
The chart below shows SST monthly anomalies as reported in HadSST3 starting in 2015 through September 2017.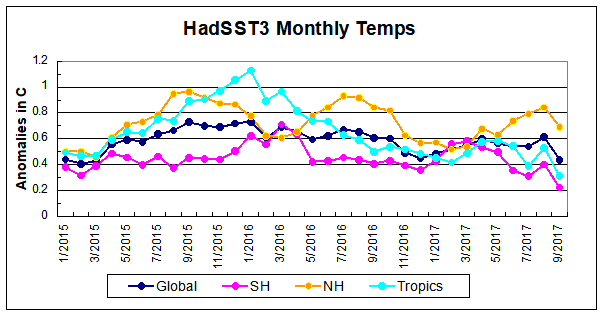 The August bump upward was overcome with the Global average matching the lowest level in the chart at February 2015. September NH temps almost erased a three-month climb; even so 9/2017 is well below the previous two years. Meanwhile SH and the Tropics are setting new lows for this period. With current reports from the El Nino 3.4 grid sector, it seems likely October will go even lower, with downward moves across all oceans.
Note that higher temps in 2015 and 2016 were first of all due to a sharp rise in Tropical SST, beginning in March 2015, peaking in January 2016, and steadily declining back to its beginning level. Secondly, the Northern Hemisphere added two bumps on the shoulders of Tropical warming, with peaks in August of each year. Also, note that the global release of heat was not dramatic, due to the Southern Hemisphere offsetting the Northern one. […]
Summary
We have seen lots of claims about the temperature records for 2016 and 2015 proving dangerous man made warming. At least one senator stated that in a confirmation hearing. Yet HadSST3 data for the last two years show how obvious is the ocean's governing of global average temperatures.
Section for a video or follow-on comment
We should revisit occasionally what the proper role of government is. As the constitution was a good sense of direction, we need a core set of principles to add in order to deal with the future.
So many want to engineer society, remove risk, assist certain groups, rather than let individuals thrive and raise communities. Why?
Is Democracy where we all "get it good and hard" or is it the best means to a free society?
Should we roll with the special interests, or make the government achieve its proper role, what is that role, and how to do this?
When do deficits and governments become too large?
Government is becoming more elitist while trying to sell corrections to problems it created, what makes this possible?
This could also be inserted into the field above, or erased
Currently as a society, we are having a most difficult time discussing political issues. What is driving this? And why a rebirth in political culture would be a good thing.
Are "markets" dead as some would conjecture? Or is free enterprise what got us here?
At the heart of economics there are several possible economic schools of thought, the essence of these schools of thought and how they relate to our lives.