Editor's Note
Sea Level hype is just that, and Nature magazine is quite willing to lead the charge. Recent data even suggests that for the past year from 2016 into 2017 that the sea level has remained constant.
Study: Sea Level Rise Revised Downward
July 23, 2017 Reposted from Roy Spencer's Blog
July 21st, 2017 by Roy W. Spencer, Ph. D.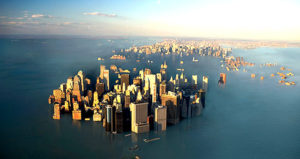 If I had not looked past the headline of the press report on a new study, I would have just filed it under "It's worse than we thought". A new study in Nature reported on July 17 carried the following headlines:
"Satellite snafu masked true sea-level rise for decades" "Revised tallies confirm that the rate of sea-level rise is accelerating as the Earth warms and ice sheets thaw."/p>
When I read that, I (like everyone else) assumed that corrections to the satellite sea level data since 1993 have now led to a revised trend toward faster (not slower) sea level rise. Right?
Wrong.
During the satellite era (since 1993), the trend in sea level rise was revised downward, by almost 10%, from 3.28 mm/year to about 3.0 mm/year. (For those concerned about Miami going underwater, these numbers equate to a little more than one inch every 10 years). This result was published back in April in Geophysical Research Letters, and the new Nature study looks at the wiggles in the revised data since 1993 and makes ominous pronouncements about sea level rise "acceleration".
I'm calling "fake science news" on the Nature reporter who covered/a> the story. The headline was technically correct…but misleading. (I can also make up technically correct headlines: "Scientists Agree: Sea Levels are Rising, We are All Going to Die")
The researchers in April made a major adjustment to the first 1/4 of the satellite record, bringing those early sea levels up. This results in adding curvature to the upward trend (an acceleration) by flattening out the early part of the curve. This new signature of "acceleration" was what made the news in the new Nature study, even though the long term trend went down.
Should this New "Acceleration" be the News?
In a word, no.
Short-term undulations in the sea level rise curve should not be used as a predictive curve for the future. They are affected by a wide variety of natural phenomena. For example, ice loss from Greenland (which was large in 2011-12) has recently reversed itself with huge gains made in the last year. These events are governed by natural variations in weather patterns, which have always occurred.
For longer-term variations, yes, the rate of sea level rise during the entire period since 1993 probably is a little more than, say, during the period since 1900 (sea level rise was occurring naturally, anyway). But the inferred acceleration is small. And even that acceleration could be mostly natural — we simply don't know.
My main point is that the Nature headline was misleading. They clearly had to find something in the study that supported the alarmist view of sea level rise, and they figured few people would read past the headline.
A face-value reading of the two main studies together results in the conclusion that sea level rise since 1993 has been revised downward. The most recent study then reads too much into the wiggles in the new data, and even implies the acceleration will continue with the statement, "The suggested acceleration… highlights the importance and urgency of mitigating climate change and formulating coastal adaptation plans to mitigate the impacts of ongoing sea level rise".
The new study does NOT revise recent sea level rise upward, as is suggested by the Nature headline quoted above.
Section for a video or follow-on comment
We should revisit occasionally what the proper role of government is. As the constitution was a good sense of direction, we need a core set of principles to add in order to deal with the future.
So many want to engineer society, remove risk, assist certain groups, rather than let individuals thrive and raise communities. Why?
Is Democracy where we all "get it good and hard" or is it the best means to a free society?
Should we roll with the special interests, or make the government achieve its proper role, what is that role, and how to do this?
When do deficits and governments become too large?
Government is becoming more elitist while trying to sell corrections to problems it created, what makes this possible?
This could also be inserted into the field above, or erased
Currently as a society, we are having a most difficult time discussing political issues. What is driving this? And why a rebirth in political culture would be a good thing.
Are "markets" dead as some would conjecture? Or is free enterprise what got us here?
At the heart of economics there are several possible economic schools of thought, the essence of these schools of thought and how they relate to our lives.