Inconvenient: NASA shows global sea level…pausing, instead of rising
Anthony Watts
/
6 hours ago October 16, 2017
This is interesting. It appears that a "pause" has developed in global sea levels. For two years, since July 2015, there has been no sustained increase in global sea level, in fact, it appears to have actually fallen a bit. This graph, provided by NASA's Global Climate Change website, tells the story: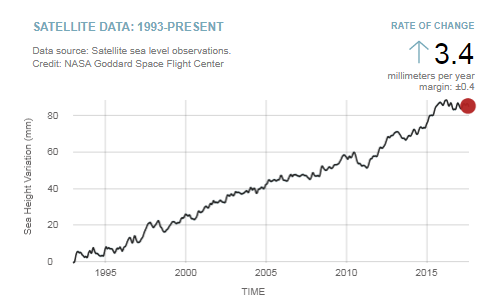 A zoom of the area of interest, two years prior to the most recent data point.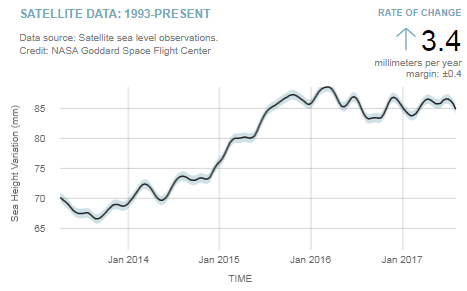 Source for both graphs: https://climate.nasa.gov/vital-signs/sea-level/
The satellite derived sea level data is also available here: NASA Data Link
NASA says on that website:
Sea level rise is caused primarily by two factors related to global warming: the added water from melting ice sheets and glaciers and the expansion of sea water as it warms. The first graph tracks the change in sea level since 1993 as observed by satellites.
Hmmm, I think they left something out of that description.
The other source for sea level data, at the University of Colorado, also shows a pause, though they have not yet updated their data for 2017: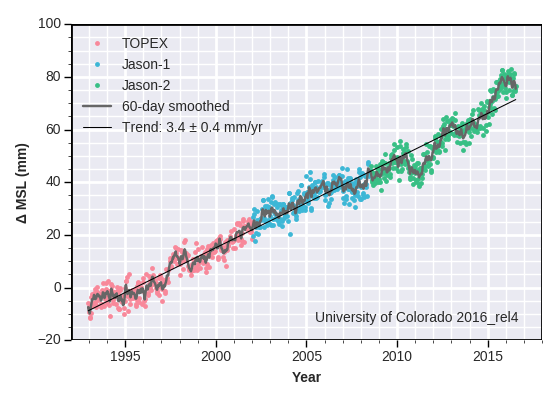 What I found most interesting on the UC sea level page was this graph, showing the correlation of El Niño Southern Oscillation (ENSO) and global sea level. [Readers] may recall that in 2015, there was a massive spike of an El Niño event: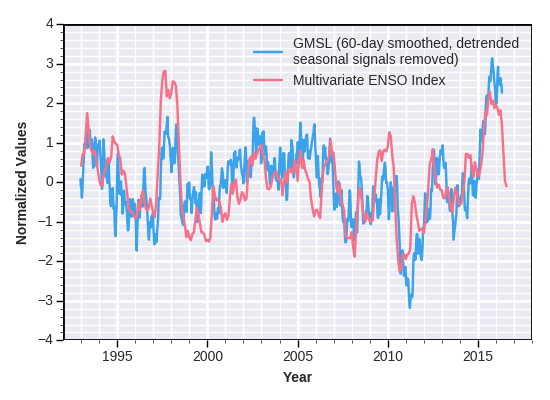 The Multivariate ENSO Index (MEI) is the unrotated, first principal component of six observables measured over the tropical Pacific (see NOAA ESRL MEI, Wolter & Timlin, 1993,1998). To compare the global mean sea level to the MEI time series, we removed the mean, linear trend, and seasonal signals from the 60-day smoothed global mean sea level estimates and normalized each time series by its standard deviation. The normalized values plotted above show a strong correlation between the global mean sea level and the MEI, with the global mean sea level often lagging changes in the MEI.
The correlation between ENSO and sea level seems strong.
Note this image from a NASA Visualization Video, which shows water piling up in the Western Pacific over the past 22 years. Wind pattern shifts are a signature of ENSO events, and they push water westward where it piles up.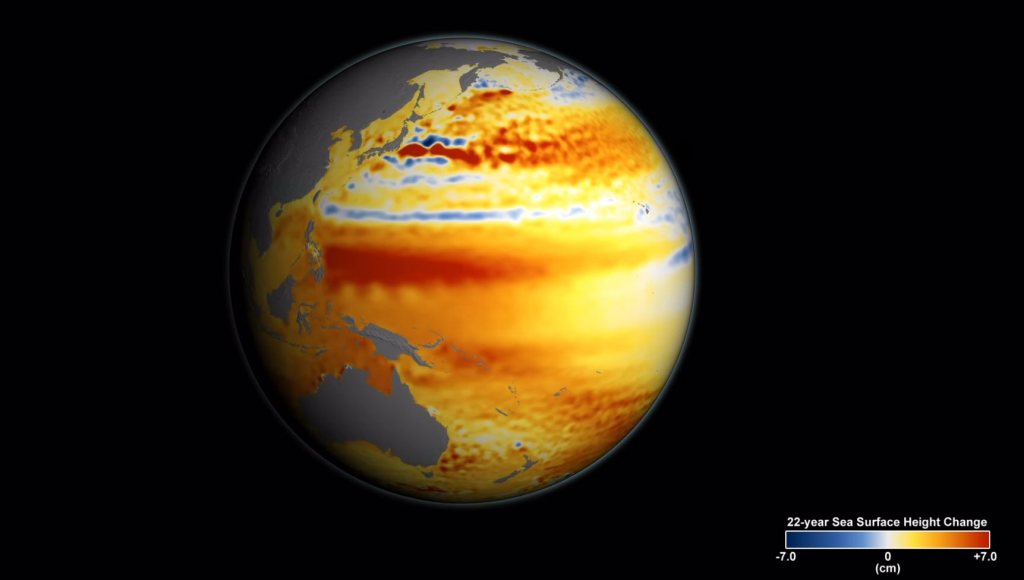 This visualization shows total sea level change between 1992 and 2014, based on data collected from the TOPEX/Poseidon, Jason-1 and Jason-2 satellites. Blue regions are where sea level has gone down, and orange/red regions are where sea level has gone up. Since 1992, seas around the world have risen an average of nearly 3 inches.
Here is another projection of the same data, showing that water has been piling up in the Western Pacific: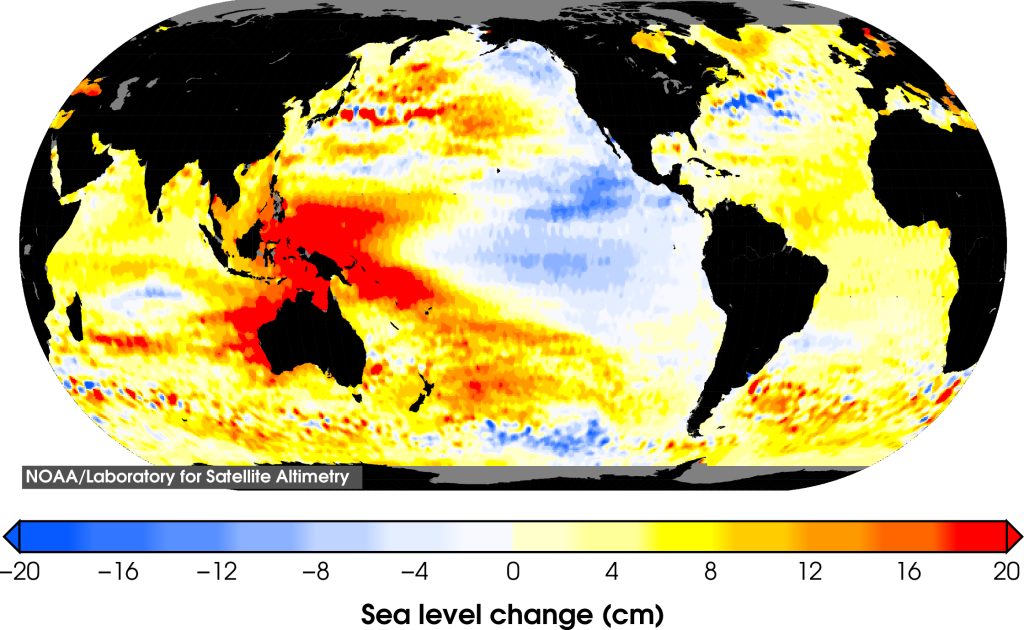 I wonder what the rate of sea level rise would look like is we masked out El Nino events? I'm guessing it would be far, far, less than what is being claimed as "global".
Section for a video or follow-on comment
We should revisit occasionally what the proper role of government is. As the constitution was a good sense of direction, we need a core set of principles to add in order to deal with the future.
So many want to engineer society, remove risk, assist certain groups, rather than let individuals thrive and raise communities. Why?
Is Democracy where we all "get it good and hard" or is it the best means to a free society?
Should we roll with the special interests, or make the government achieve its proper role, what is that role, and how to do this?
When do deficits and governments become too large?
Government is becoming more elitist while trying to sell corrections to problems it created, what makes this possible?
This could also be inserted into the field above, or erased
Currently as a society, we are having a most difficult time discussing political issues. What is driving this? And why a rebirth in political culture would be a good thing.
Are "markets" dead as some would conjecture? Or is free enterprise what got us here?
At the heart of economics there are several possible economic schools of thought, the essence of these schools of thought and how they relate to our lives.