Editors Note
An excerpt from a NASA article in 2015. The data below covers also 2017. This data bears watching as does the Arctic Ice coverage.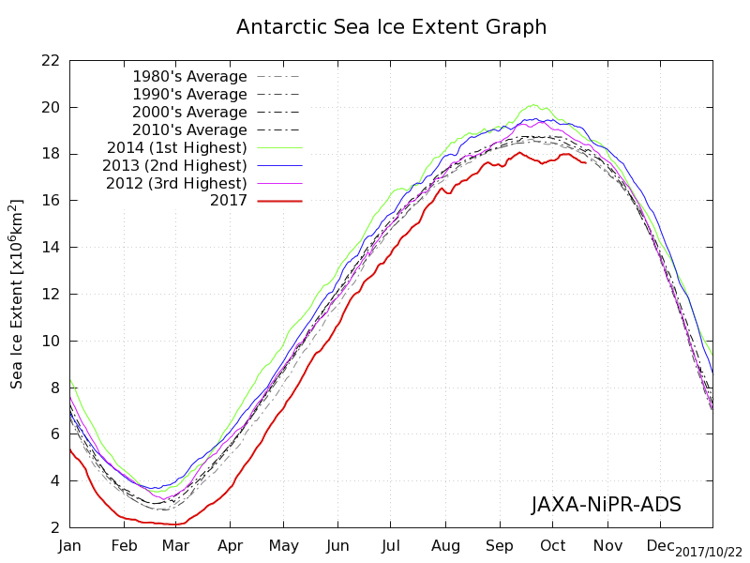 NASA Study: Mass Gains of Antarctic Ice Sheet Greater than Losses
Oct. 30, 2015 NASA Article Link
A new NASA study says that Antarctica is overall accumulating ice. Still, areas of the continent, like the Antarctic Peninsula photographed above, have increased their mass loss in the last decades. Credits: NASA's Operation IceBridge Map showing the rates of mass changes from ICESat 2003-2008 over Antarctica. Sums are for all of Antarctica: East Antarctica (EA, 2-17); interior West Antarctica (WA2, 1, 18, 19, and 23); coastal West Antarctica (WA1, 20-21); and the Antarctic Peninsula (24-27). A gigaton (Gt) corresponds to a billion metric tons, or 1.1 billion U.S. tons. Credits: Jay Zwally/ Journal of Glaciology
A new NASA study says that an increase in Antarctic snow accumulation that began 10,000 years ago is currently adding enough ice to the continent to outweigh the increased losses from its thinning glaciers.
The research challenges the conclusions of other studies, including the Intergovernmental Panel on Climate Change's (IPCC) 2013 report, which says that Antarctica is overall losing land ice.
According to the new analysis of satellite data, the Antarctic ice sheet showed a net gain of 112 billion tons of ice a year from 1992 to 2001. That net gain slowed to 82 billion tons of ice per year between 2003 and 2008.
"We're essentially in agreement with other studies that show an increase in ice discharge in the Antarctic Peninsula and the Thwaites and Pine Island region of West Antarctica," said Jay Zwally, a glaciologist with NASA Goddard Space Flight Center in Greenbelt, Maryland, and lead author of the study, which was published on Oct. 30 in the Journal of Glaciology. "Our main disagreement is for East Antarctica and the interior of West Antarctica – there, we see an ice gain that exceeds the losses in the other areas." Zwally added that his team "measured small height changes over large areas, as well as the large changes observed over smaller areas."
Scientists calculate how much the ice sheet is growing or shrinking from the changes in surface height that are measured by the satellite altimeters. In locations where the amount of new snowfall accumulating on an ice sheet is not equal to the ice flow downward and outward to the ocean, the surface height changes and the ice-sheet mass grows or shrinks.
But it might only take a few decades for Antarctica's growth to reverse, according to Zwally. "If the losses of the Antarctic Peninsula and parts of West Antarctica continue to increase at the same rate they've been increasing for the last two decades, the losses will catch up with the long-term gain in East Antarctica in 20 or 30 years -- I don't think there will be enough snowfall increase to offset these losses."
The study analyzed changes in the surface height of the Antarctic ice sheet measured by radar altimeters on two European Space Agency European Remote Sensing (ERS) satellites, spanning from 1992 to 2001, and by the laser altimeter on NASA's Ice, Cloud, and land Elevation Satellite (ICESat) from 2003 to 2008.
Section for a video or follow-on comment
We should revisit occasionally what the proper role of government is. As the constitution was a good sense of direction, we need a core set of principles to add in order to deal with the future.
So many want to engineer society, remove risk, assist certain groups, rather than let individuals thrive and raise communities. Why?
Is Democracy where we all "get it good and hard" or is it the best means to a free society?
Should we roll with the special interests, or make the government achieve its proper role, what is that role, and how to do this?
When do deficits and governments become too large?
Government is becoming more elitist while trying to sell corrections to problems it created, what makes this possible?
This could also be inserted into the field above, or erased
Currently as a society, we are having a most difficult time discussing political issues. What is driving this? And why a rebirth in political culture would be a good thing.
Are "markets" dead as some would conjecture? Or is free enterprise what got us here?
At the heart of economics there are several possible economic schools of thought, the essence of these schools of thought and how they relate to our lives.